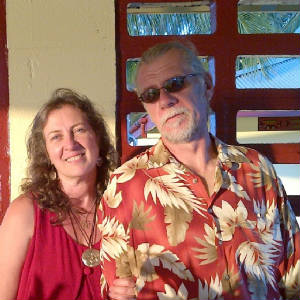 Healing Practitioners David and Maire Susan consider themselves blessed to live in the paradise of the Hawaiian islands. Together they incorporate many modalities in a medley of healing geared to the individual client. Among these are Reiki, Shamanic Journeying and Sound Healing Techniques, Counseling, Sacred Space and Ritual Ceremony. Both are Reiki Masters, and Licensed Ministers.
David is a Reiki Master, Licensed Massage Therapist (#7450), Earth Guardian, Musician(with 3 CD's, available for purchase) and Intuitive Card Reader, blending these gifts to assist in bringing you home to a place of balance and peace.
Maire Susan is a Witch, Priestess, Healer and Ritualist. She is also an Ordained Minister of the International Assembly of Spiritual Healers and Earth Stewards Congregations. In addition, she is a Doula, trained and certified at Seattle Midwifery School to provide support to women and their families during birth, labor and beyond. She has been a member of the Pacific Alliance of Labor Support, until relocating to Hawaii. Maire Susan's strong empathic abilities, counseling skills, Goddess guided healing techniques, and deep ritualistic background provide a safe and healthy environment to make your healing experience as beneficial as possible.
Solo or together, they work to bring their client to a place of healing, Whole-ness and clarity.
David and Maire Susan offer their healing, teaching and ritual services to all residents of the islands and visitors alike.
Sessions are available, please call for information. 808.896.8537 or 808.895.7800