Located in the Beautiful Islands of Hawai'i- Ancient Land of Lemuria....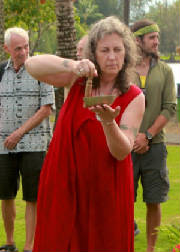 Memorial Ceremony
CIRCLES AND SPIRALS ON THE PATH
Small group classes offered in aspects of Wicca. Space is limited.
Contact Maire for information.
APPRENTICESHIP IN WICCA: A Year and a Day
Join in a small class setting to explore and deepen your understanding of Wicca, the ancient Native European Earth-based Spiritual Practice. Call Maire at 808-896- 8537 for information and to set up an interview for admission to the class circle.
CELEBRATE THE WHEEL OF THE YEAR: Rituals will be held on the Eight Sacred Days of the Year. The Equinoxes, Solstices and Cross-quarter days are times of Celebration! Please call for days/times and other info. regarding rituals.
COMING TO THE ISLANDS? Are you looking for ideas about places to stay, things to do, or would you like to meet us? Would you like to join one of our Wheel of the Year celebrations? Give us a call, or drop us an e-mail! 808 896-8537 or write us: finngael@hotmail.com
Blessed Be!
Hey...Need a Massage or Reiki Treatment?
David is fully trained and licensed in the state of Hawaii. So why not book a relaxing, healing, and possibly transformational session today, accompanied by David's soothing flute music in the background?? He has studied Swedish, Shiatsu, Lomi-Lomi, and Reflexology, so any of these modalities can be experienced, or a combination of them during the session. David and Maire are both Reiki Masters as well, so why not book both, a Massage with David, and a Reiki or eclectic healing, or shamanic session with Maire ??...call us for details.
Blessings