We are currently hosting circles for the sacred days of the Wheel. Pagan and pagan-friendly folk are welcome. We practice an eclectic Wicca, incorporating Celtic, Nordic, and Reclaiming traditions as well as spirit-guided aspects from inner/Goddess inspired guidance.
Classes are to be scheduled begining in early 2014 in Hilo- watch for announcements!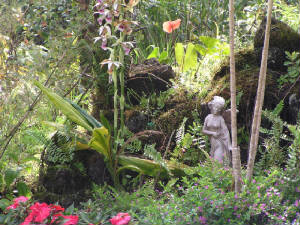 Finn-Gael Keep: Our home on the Big Island is 20 acres of beautiful rainforest covered with o'hia lehua, ferns, orchids, and rock. We are less than 10 miles from the Pu'u O'O vent of Kilauea, and on the slopes of Mauna Kea.
With the help of a couple of very good friends, we built a couple of small buildings at the Finn Gael Farm. It is so nice to be inside solid walls.
It is a park-like place and we are so blessed to live there!
Finn-Gael update
We have been holding circle for the celebratory days on the Wheel, at the Farm. It has been wonderful to share the land and the energy there with our guests. Also wonderful to have people come to circle who respect the 'aina and the spirit of the place. Please contact us if you would like to join us at one of the circles. (Solstices, equinoxes and cross-quarter days) All gatherings are free, but we ask for a love-offering, if you can. Potlucks follow all of our gatherings, and all are asked to bring food and drink to share.
Funds are needed and appreciated to help keep this vital spiritual sanctuary going. We gratefully accept financial aid and offerings through paypal-
planetarypriestess@gmail.com
.
We continue to be blessed, and ask for greater blessings for us all of abundance, love, health and those things that we need. Blessings from the 'Keep at Finn-Gael Forest Farm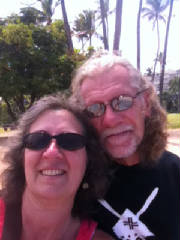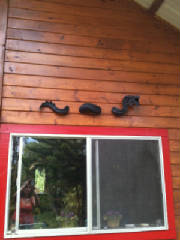 House Guardian
Ceremonies also available include: Weddings, Handfastings, Birth, Naming or Re-Naming, Coming of Age, Milestone Birthday, Memorial Services and other Rites of Passage Ceremonies.

Let us help you create a ceremony uniquely your own, or choose from the many we have already created.
CO-TAUGHT BY DAVYD AND MAIRE SUSAN:
1st, 2nd DEGREE and MASTER LEVEL REIKI ATTUNEMENT CLASSES
1st Degree is an all-day workshops to empower the practitioner to heal the self and others. 2nd Degree teaches the healer to do long-distance healing, as well as healing the future or past, shift life patterns, clear past trauma, and heal ones self or others on the mental, emotional and karmic levels. Master level attunement further deepens and develops the practitioner's abilities as well as enable him/her to step into the teaching role and pass attunements onto to others. These intensive trainings include: lecture, hands-on practice, a ceremonial attunement, and a potluck meal. Classes may be scheduled as requested for individuals or groups.